Skilled-Nominated Visa Subclass 190
The Skilled-Nominated Visa subclass 190 is a 5-year permanent resident visa sub category granted to eligible skilled workers who are nominated by an Australian State or territory. Certain states of Australia have a huge vacancy in several of its employment sectors. When they believe that the Australian workforce is unable to serve the vacant positions, they depend upon hiring foreign talent from outside. For this, the respective state or territory government nominates an eligible candidate and sponsors them with a Permanent resident visa (subclass 190). This visa holder can migrate to Australia, work for any company within the nominated State or territory and enjoy benefits as permanent residents.
What are the requirements to qualify for a Skilled-Nominated Visa Subclass 190?
To be able to apply for a skilled immigration to Australia through Skilled-Nominated Visa Subclass 190, a candidate needs to have:
an age under 50 years
minimum Bachelor's degree
a work experience of at least 3 yrs (relevant to your education)
ability to speak, read, write and understand the English language
ability to nominate a relevant occupation as per skills and qualification from Skilled Occupation List
skills assessed by a relevant occupation Skills Assessing Body of Australia
overall 65 points (w.e.f July 1, 2018) under Australia's points based system
good character and have good health
sufficient funds to manage stay
Skilled Independent Visa subclass 189 & Skilled-Nominated Visa Subclass 190 – Processing Difference:
The Skilled Independent Visa (subclass 189) is specifically for those applicants who do not have any state nomination or sponsorship. While the process of applying for a subclass 189 & subclass 190 is interlinked, application of Skilled-Nominated Visa Subclass 190 involves an additional stage.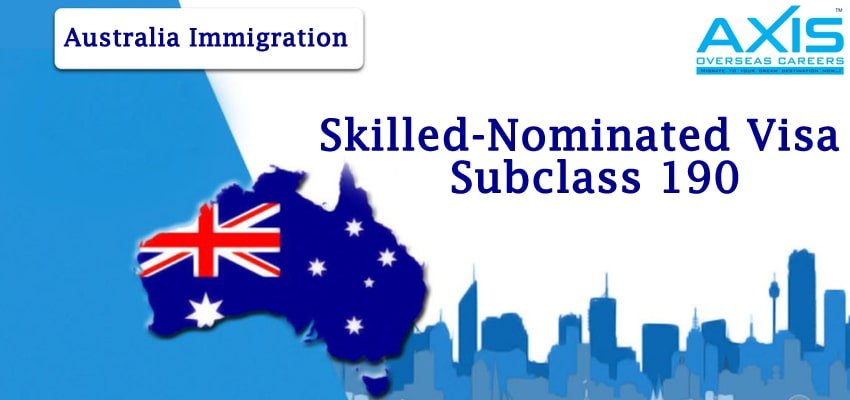 Stage 1 – Skills Assessment
The first stage involves a thorough assessment of applicant's skills. This skills assessment helps the Department of Immigration & Border Protection to judge and analyze whether the applicant has skills that are required to practice in the selected occupation of Australia. Each occupation has a different assessing body and the one that is relevant to the applicant's occupation conducts this skills assessment.
Stage 2 – Expression of Interest
Applicant needs to express his interest in Australia immigration initially. This is done by creating a profile with Skill Select. This profile must feature all authentic and complete information about the applicant, his accompanying family, and their family background. This profile is called Expression of Interest (EOI).
Stage 3: State Sponsorship Application
This is an additional state that makes a part of the Skilled Nominated Visa processing and is not involved in the process of Skilled Independent Visa. In this stage, the applicant needs to apply for a State Nomination or sponsorship, after proving that you have the ability to migrate to Australia and work for the position listed on one of their State Migration Plan of the respective year.
Stage 4- Invitation to Apply
Once the application is accepted, you will receive a state nomination certification from the respective State or territory Government. This adds an additional score to your profile. On meeting the eligibility requirements, Australia issues and Invitation to Apply. This indicates that the applicant is accepted by the Australian government and invites him for an Australian Permanent Residency.