Nursing Jobs in Canada
Are you looking for Nursing Jobs in CANADA? Contact Axis Overseas Careers and we will help you secure your dream nursing job. Nursing Jobs in CANADA are open to all overseas nurses across all disciplines. Most of all require general nurses in addition to mental health nurses, learning disability nurses, midwifery and paediatric nurses
Register with us today and easily apply for any nursing roles that are available on a daily basis. Our dedicated staff also assist you with CV preparation as well as advice on interview techniques for hospital personnel interviews.
Furthermore we will offer assistance with completing  documents and applying for your Visas. Finally we welcome each new overseas nurse in Canada with a meet and greet and a welcome pack.
There are a lot of Canadian immigration options for nurses to choose from. As a nurse, you may be qualified to come to Canada as a skilled worker though one of the many economic immigration programs at both the federal and provincial level.
There are four major ways that you can come to Canada as a nurse:
Express Entry
Quebec Immigration
Provincial Nominee Programs
Study-2-Immigrate
In this article, we'll provide a brief outline of each of the pathways to life in Canada. We'll also address some of the eligibility requirements that nurses usually have to meet, such as the minimum IELTS score nurses require for Canadian immigration.
Express Entry
Nurses can qualify for Express Entry under the Federal Skilled Worker Program (FSWP) if they meet the program requirements. They need to score 67 out of 100 possible points based on factors like their education, age, work experience, and language proficiency.
If they meet the minimum pass mark, they can submit a profile to the Express Entry pool. Once they're in the pool, they receive a Comprehensive Ranking System (CRS) score out of 1,200. Periodically, the highest ranking candidates in the Express Entry pool are issued Invitations to Apply (ITAs) for permanent residence.
One of the greatest advantages to the Express Entry system is that there are no fees to submit your profile to the pool, and if you receive an ITA and submit an application for permanent residence, your application will probably be processed within six months.
The minimum IELTS score requirement for nurses in Express Entry depends on the individual's complete profile. You need to score at least 6.0 in each of the four language abilities to be eligible for Express Entry, but you may need a different score to meet the 67 point pass mark. The two cases below show two different nurse's profiles.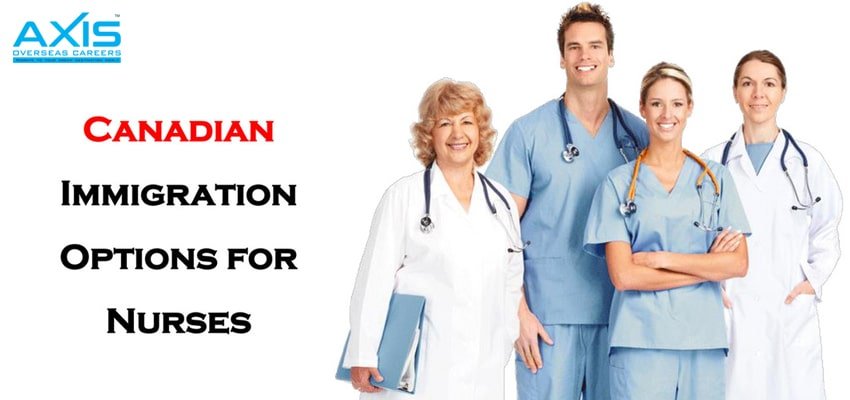 Quebec Immigration: Nursing Jobs in Canada
Nurses may also be eligible for the Quebec Skilled Worker Program (QSWP) if they score at least 50 points on the Quebec selection grid.
The QSWP accepts applications from people residing in Quebec all year, but only opens up intake periods for international applicants a couple of times a year, with limited quotas. Recently, changes were also made to the Quebec selection grid that reduced the points that nurses, among other professionals, could claim for their education.
That said, if you are eligible for QSWP and able to submit an application, there are some advantages to the program compared to Express Entry:
There is no minimum required IELTS score. However, depending on your profile, you may need to have at least a certain score to qualify.
You don't need an Educational Credential Assessment (ECA) for your degree.
You don't need settlement funds "show money".
 Provincial Nominee Programs
Another possible immigration option for nurses to immigrate to Canada is through a Provincial Nominee Program(PNP). PNPs are immigration programs run through a partnership between provincial governments and the federal government. Each province in Canada operates its own PNP with multiple streams, but every PNP leads to the same end result: Canadian permanent residence.
Nursing Jobs in Canada
Some PNPs are only open to candidates who are already in the federal Express Entry pool. Receiving a nomination from one of these PNPs grants you an additional 600 CRS points, virtually guaranteeing you will receive an ITA.
Many PNPs require some kind of connection to the province operating it, like family residing there or having past experience studying or working in the province. Other PNPs are designed to address skills gaps in the province by accepting skilled workers with experience in occupations that are in-demand in the province.
Nursing Jobs in Canada: The Nova Scotia Demand: Express Entry category of the Nova Scotia Nominee Program (NSNP), for example, is only open to candidates with an Express Entry profile who have experience in specific target occupations. Two of those targeted occupations are "Registered Nurses" and "Licensed Practical Nurses".