Express Entry Program
Express Entry Program, is ideal for skilled immigrants who intent on settling permanently in Canada. There are three immigration programs an individual can choose from under Express Entry Program.
Federal Skilled Worker Program
To migrate to Canada through this program, the applicant must score a minimum of 67 points on the Comprehensive Ranking System. This system takes 6 factors into account; age, language skills, education, work experience, arranged employment in Canada and adaptability.
In terms of language, English and French are the official languages of Canada. To prove language proficiency, the applicant must take an approved language test. The Canadian Language Benchmarks (CLB) and Niveaux de compétence Linguistique Canadien (NCLC) are used to measure proficiency in English and French respectively.
A minimum level of CLB 7 or NCLC 7 is required for the first official language. To get points for the second official language, the applicant must achieve a minimum level of CLB 5 or NCLC 5.
Federal Skilled Trades Program
To be eligible, the applicant must
Plan on living outside the Quebec province
Achieve a minimum level of CLB 5 for listening and speaking and CLB 4 for reading and writing
Have at least 2 years full-time work experience or equivalent part-time work experience
Meet the job requirements for a skilled trade as defined by the National Occupational Classification (NOC)
Have an offer of full-time employment for at least 1 year
There are no minimum educational qualifications required to migrate to Canada through this program.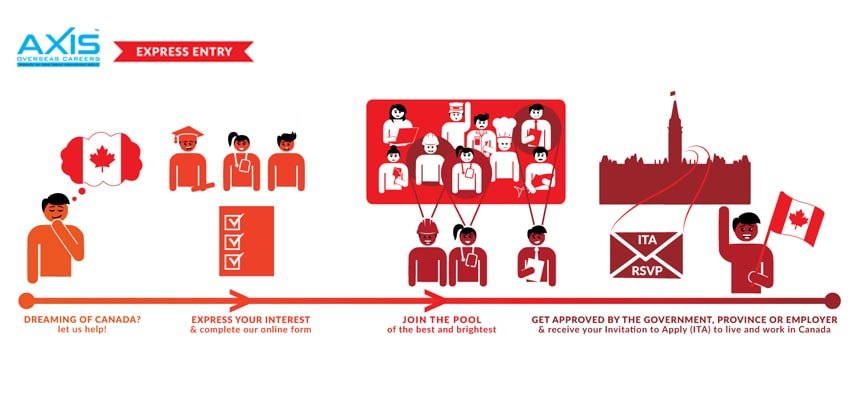 Express Entry Program: Canadian Experience Class
To be eligible for Express Entry Program, the applicant must meet the below criteria:
He must have at least 12 months of full-time skilled work experience in Canada in the past three years or its equivalent in part-time experience. Self-employment and work experience gained while studying does not count.
He must meet the language levels needed for the job in terms of speaking, listening, reading and writing.
He must plan on living outside Quebec.
There are no minimum educational qualifications required to migrate to Canada through Express Entry Program.